Are you a rooster?
The rooster is one of 12 animals that mark the cycle of the Chinese zodiac. If you were born in the years 1921, 1933, 1945, 1957, 1969, 1981, 1993, 2005 or 2017 then you are a rooster. According to the zodiac, the primary characteristics of the rooster are loyalty and punctuality. Like the animal itself, you probably don't need an alarm clock to wake up and you're more than likely the one telling others when to get up and go.
To get specific, this is the year of the fire rooster. Each zodiac sign is accompanied by a one of the five elements: earth, metal, water, fire and wood. Each element/zodiac pair only comes along every 60 years. If you were born in 1957 or 2017, then you're a fire rooster like Daniel Day-Lewis, Donny Osmond, Martin Luther King III, Matt Lauer and Hans Zimmer. According to the zodiac, you're likely trustworthy, responsible and good at time management.
It's common for sweethearts and family members to give each other red underwear to ward off bad luck in the coming year. (Photo: MN Chan/Getty Images)
Is this your year?
If you're a rooster, you may be thinking that 2017 is the year for you. But sadly, the year of the rooster will be an unlucky one for those who hold this zodiac sign. But don't feel too bad, according to Chinese astrology, the year of one's zodiac may be unlucky, but you'll have 11 more years after this one to rebound and recover from whatever 2017 throws at you. One thing that roosters can do to counteract any bad luck is to immerse themselves in the color red. (If you're a rooster, this might be a good year to stock up on red undies to help banish the bad luck!)
For everyone else (rats, ox, tigers, rabbits, dragons, snakes, horses, goats, monkeys, dogs and pigs,) 2017 may be filled with a wide array of ups and downs. If you believe in horoscopes, you can check out yours here.
So what is a Fire Rooster?
However, this is the year of the fire rooster.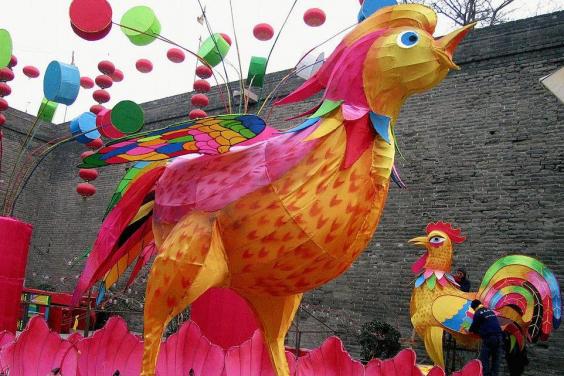 Those born in 1957 or 2017 are fire roosters, and are considered trustworthy, with a strong sense of timekeeping and responsibility at work.
They are also thought to be talkative, popular in a crowd and loyal.
Their lucky numbers are thought to be five, seven and eight, and their lucky colours gold, brown and yellow.
Fire roosters are recommended to avoid the colour red and their unlucky numbers: one, three and nine.
The rooster will be followed by the dog in 2018 and the pig in 2019.